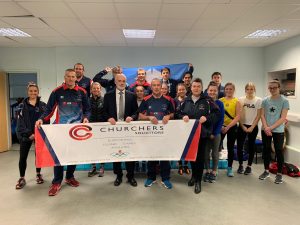 TEAM Isle of Wight's biggest Island Games athletics squad since 2011 has been kitted out for this year's event, thanks to a new sponsor.
The squad will head to Gibraltar in July sporting a new bespoke kit, courtesy of Churcher's Solicitors, Ryde.
Athletics manager Nick Groocock said: "We're taking experienced athletes who will be hoping to bring back a haul of medals, as well as some young but talented athletes who we have high hopes for the future.
"As ever, the cost of competing at the Games is always challenging so the sponsorship from Churcher's has helped enormously."
Churcher's managing partner Ian Robinson added: "We are proud to support the athletics team in the upcoming Island Games.
"We wish them the best of luck in competing and look forward to following their progress."
The 2019 Island Games runs between 6 and 12 July.