Team Isle of Wight has been boosted by a £740 donation from Newport Business Association (NBA).
The team will travel to Gibraltar in July for the 2019 Island Games and the cash from NBA will help towards their travel and accommodation costs.
Members of the organisation gave donations which the association match funded.
Jo Randall, of Newport's Love Running shop, said: "Newport Business Association is proud to support the 2019 Island Games, and wishes every member of Team Isle of Wight a most enjoyable, exhilarating and successful event."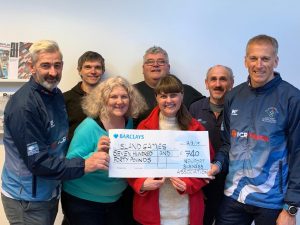 The donation followed a meeting between business association members and the Isle of Wight's Island Games chairman, Martin Goodall, last summer.
Martin said: "We are really grateful to Newport Business Association for the donation.
"Competing in the Island Games is the pinnacle for many of our athletes – it's like a mini  Olympics and a very special event to be involved in.
"We would hate for anyone who has been selected on merit to miss out over money, so any financial support we receive makes a huge difference."