For many athletes from the Isle of Wight, competing in the Island Games is the pinnacle of their sporting lives.
Often dubbed a 'mini Olympics', the event brings together islands from across the world for seven days of international competition.
The 2019 games – taking place in Gibraltar this month – will involve more than 100 competitors from the Isle of Wight.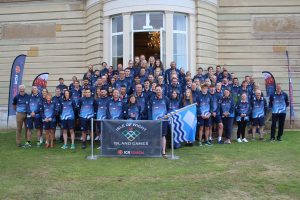 Twenty three islands will compete in 12 sports – athletics, badminton, basketball, cycling, judo, sailing, shooting, squash, swimming, tennis, table tennis and triathlon.
Martin Goodall, of the Isle of Wight Island Games Association, will be overseeing his third games as chairman.
Martin competed in the 1993 Island Games, held on the Isle of Wight, winning a silver medal in the triple jump and a bronze in high jump.
"It's a very exciting event to take part in," he said.
"It was a highlight of my athletics career and it will be the highlight for many of our competitors this time around.
"For some, it'll be a great chance to experience an international event, with a view to building on this year for future games.
"For others, it'll be a real chance to win a medal and we have a few hopefuls, who we're confident have a great chance.
"It gives athletes from the Isle of Wight a chance to compete alongside each other as one team, which is really special."
Medallists from previous games return to the squad for Gibraltar.
Runner Dan Eckersley, who won gold in 2017, Anna Showan, a badminton medallist from 2011, and sisters Imogen and Shelley Moss, who between them won a clutch of medals two years ago, all feature.
Nine-time table tennis gold medallist, Dan Burns, also returns, with the extra responsibility of carrying the Island flag during the opening ceremony.
"I first took part in the Island Games in Gibraltar in 1995, so to have this privilege 24 years on is something very special and feels as though it has come full circle," Dan said.
"I've had some amazing moments in the Island Games and to lead the team out in Gibraltar will be right up there with them."
While medals are important, Martin and his colleagues within the Isle of Wight Island Games Association, only ask individuals to give their all.
"I want everyone to have the best possible time, to perform at their best and deliver after all the weeks and months and years of training.
"If they perform at their best – that can mean winning gold or coming last – but it's about giving their everything and leaving nothing out there.
"The Isle of Wight will be very proud of them for being their best, that's all we hope for."
The Isle of Wight Island Games Association was recently granted charity status, which officials hope will help with future fundraising and sponsorship.
Ahead of the 2019 event, support from businesses and other Island organisations have boosted the squad.
Software company ICRTouch, based at Sandown, renewed its sponsorship deal with Team Isle of Wight to cover the cost of the squad's Island Games kit.
Other sizeable donations – including from the Isle of Wight Sports Foundation, Newport Grammar School Trust, Wight Aid and Newport Business Association, have also been received.
The money has helped cover travel and accommodation costs for competitors either in low-paid work or those still in education or training.
Martin added: "It costs around £800 per person to go but we've always tried to ensure people who deserve to go, based on their sporting ability, are not priced out.
"We're hugely grateful for all the support we've had to help us get to Gibraltar."
With just days to go before the games gets underway (it starts on Saturday, July 6th) the squad is now ready.
For Martin and his colleagues, it follows months of planning and organising but, come the start of the competition, it will all be worth it.
"I've been involved in sport all my life and I just wanted to pay something back and help provide people opportunities I had given to me, thanks to the efforts of others.
"We all do this voluntarily because of what it means to sports people on the Isle of Wight.
"I had the time and motivation to take on this role and, for me, it's all about giving our athletes the experience.
"It's always an incredibly emotional week. To see people achieve their goals and perform at their best when it matters most is an amazing experience.
"To be there to share all the ups and downs of the week is a real rollercoaster but it makes all the hard work to get us there very worthwhile.
"I'll be an emotional wreck by the time it's over but I can't wait to watch our competitors in action."
To follow all the action from the 2019 Island Games, visit the Isle of Wight Island Games Association's Facebook page or follow @IOWIGA on Twitter.