Team Isle of Wight ended the first day of competition at the 2019 Island Games with two golds and a silver medal – all in shooting.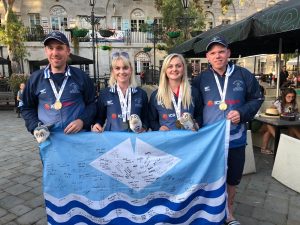 Sisters Imogen and Shelley Moss won gold in the ladies' standard pistol team event, to follow their silver in the sports pistol.
Matt Reed and Perron Phipps won the team's first gold of the games after winning the men's 50m team pistol competition.
Shelley said: "We're really happy.
"The pressure was ten times worse than I've known it before, my stomach was turning the entire time.
"It's a big relief to win and hopefully we can add some more."
Elsewhere, 13-year-old squash star Amelie Haworth won her first match 11-0, 11-1 to stay in contention for a medal.
In badminton, Team Isle of Wight beat Gotland 4-1 and the Western Isles 5-0 and in table tennis the Isle of Wight still has medal hopes after progressing through the 'group of death'.
The men's doubles tennis team also enjoyed a memorable victory against the Cayman Islands, who took revenge in basketball with 103-42 over the Island.
The Island's triathletes all featured in the first event of this year's games, with Dave Sweet first home in the men's event in 13th.
Jan Fletcher and Lizzie Steward, both nursing injuries, finished the ladies' race in 16th and 17th respectively.
In last night's town centre criterium, the Island's cycling team finished 7 and in athletics, Paul Cook ran well to finish 11th in the men's 10k race.
Today (Monday), competitive swimming and judo gets underway, alongside all the other events involving Isle of Wight competitors.